Katelyn's Iceland Adventure
 When my Dad and I first started planning a vacation to Iceland, we talked about doing a road trip around
the Ring Road
and staying in hotels along the way. What a great idea! I would have a bed each night, a bathroom with hot water, and my own mirror. I was content with the plan. That's why when my Dad texted me one afternoon while I was at work to let me know that the plan had changed—that instead, we would be
renting a camper van
and living in that for nine days and eight nights—I panicked. Surely, there wouldn't be enough space for both my dad and me. He's 6' 4''! Where would we use the bathroom?! How would we make food!? I had never been camping before, and I was expecting the worst.
But, boy was I wrong! I have now returned to the States and can say with 100% certainty that renting a camper van for your road trip around Iceland's Ring Road is the way to go. Being able to pull off at one of the many available campsites each evening gave us the flexibility to explore the beautiful country at a comfortable pace and affordable price, all while still enjoying the luxuries of a typical hotel. We slept comfortably, had access to bathrooms and showers with hot water, and were able to cook 5-star (ok, maybe more like 3-star) meals every night.
In order to make sure that you have as awesome as an experience as my dad and I had in Iceland, I have outlined some tips and suggestions throughout this blog post:
Cooking & eating while camping in Iceland
As a VERY picky eater, one of my first thoughts before traveling internationally for the first time was, "What will I eat while road tripping around Iceland?" Thankfully, we had a plan…and it worked perfectly!
1. We brought a lot of snacks and non-perishable food items in our suitcases. We brought granola bars, instant coffee and hot chocolate mix, cereal, peanut butter, oatmeal, Parmesan cheese, pasta noodles and rice.
2. When we arrived in Iceland, before really getting on our way, we stopped at a grocery store called Bónus and picked up some more things that we thought we might need: cooking oil, milk, chicken, a loaf of bread, crackers, slices of cheese, etc.
Between what we had brought from home and what we bought at the market, we were able to prepare a couple different meals while parked at the campsites: (1) chicken and rice, (2) grilled cheese sandwiches, (3) a pot of Macaroni & Cheese. We were also able to make coffee and hot chocolate every morning, which always made for a great start to the day.
We were able to pick up lunch at gas stations along the way and were also able to enjoy a meal or two at a restaurant when we stayed at campsites near small towns/cities.
Places to visit
Iceland has so much to offer. In a single day of driving along the Ring Road, you can see roaring waterfalls, blue icebergs,
black sand beaches
, volcanoes, glaciers and more! All of the landscape of Iceland is truly amazing, but there are few spots that I consider MUST-SEE attractions.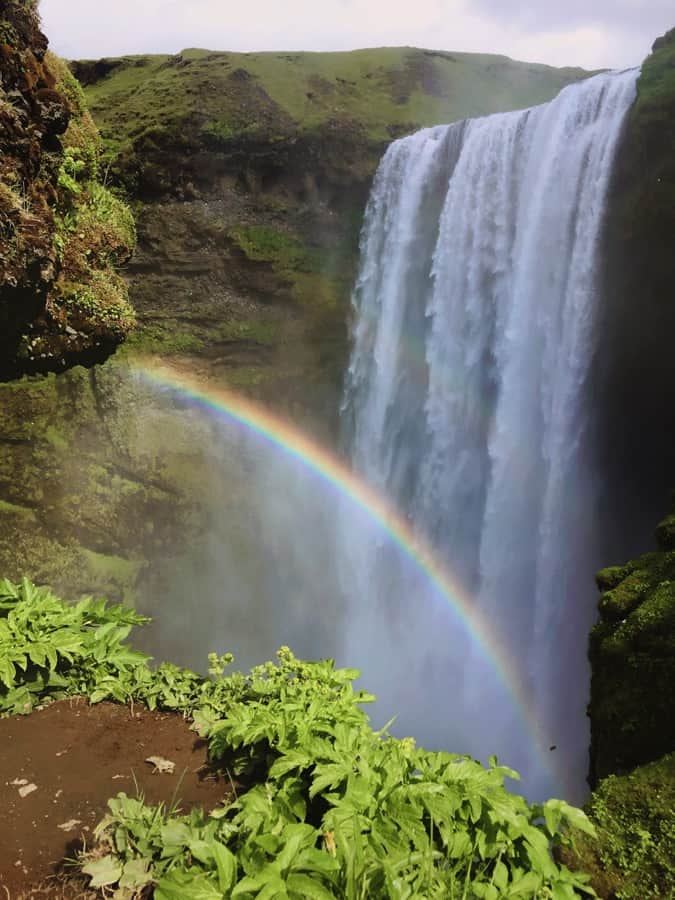 1. Skógafoss
: Skógafoss is a waterfall located in the south of Iceland, en route to the famous town of Vik. Although I was amazed by all of the waterfalls I saw in Iceland, this one was my favorite. You could view the waterfall from three different angles (from the ground, from a rock at eye-level, and at a platform above the fall). If you're lucky like we were and the sun is shining while you're visiting, the mist from the waterfall creates a seemingly magical rainbow. It was breathtaking!
2. Glacier Bay: At Glacier Bay, you're able to stand at the edge of the water and watch the bluest of icebergs float through the water! It was so cool to marvel at the size and color of the ice, at such a close distance.
3. Borgarfjörður Eystri: This is located in East Iceland and is somewhere you can see hundreds of puffins, up close and personal! We really wanted to see the famous bird while we were in Iceland, and I'm so glad that we made the drive here because it was the only area that we saw them. Such beautiful creatures!
Activities
1. Snowmobiling on Mýrdalsjökull Glacier
: On our second day of the road trip, we went snowmobiling through a company called, Arcanum. It was such an incredible experience!! Not only was it really fun to drive the snowmobile, but the thrill of being on top of a glacier was unforgettable (not to mention it made for some awesome and hilarious GoPro footage!).
2. Mývatn Nature Baths: This lagoon was located in the Geothermal Area of Lake Mývatn and was the perfect way to end one of our evenings during the middle of our road trip. My dad and I also visited the famous Blue Lagoon in Grindavík, but we both agreed that the Mývatn Nature Bath was actually more pleasurable. Not only was it less crowded, but the water was also much hotter and the minerals in this lagoon left our skin feeling much softer and cleaner!! (It's also cheaper!!)
3. Horseback riding tour
: One thing that you'll surely notice while driving around Iceland is that the horses are beautiful!! Their manes were gorgeous; it looked like they had all walked out of a beauty salon!
We were so intrigued by the horses that we decided to dedicate one afternoon to being taken on a horseback riding tour. We took a tour with HestaSport, located in Skagafjörður; it was the perfect way to see a little bit of Northern Iceland. My dad and I were taken on our own personal tour that ended at a secret, natural hot spring!
General tips regarding use of the Camper van
1. If you travel in Iceland during the summer months like we did (June), keep in mind that there are nearly 24 hours of sunlight! In order to make falling asleep in the van easier at night, we used towels that we had brought from home (originally intended for showering/lagoon purposes) to cover the back window and make the van darker. This worked great!! We had brought eye masks to wear, but we both quickly realized that we didn't like having things on our face while we slept!!
2.
Don't be afraid to venture inland for a night or two of camping! On our second night in Iceland, we drove to Þakgil and camped among some of the most incredible landscape I've ever seen. Green, moss-covered mountains surrounded us on every side and the atmosphere really was so serene. Something I'll never forget: In the morning, we were woken up by something tapping on the back of the camper van. When we pulled back the curtains, there were about eleven wild sheep walking around our van! That was more effective than any alarm clock I've ever set 🙂
3. Bring an iPod or have music downloaded on your cell phone! The radio stations are a bit spotty and some sing-along-songs might be just what you need to fight off sleepiness while on the road.
4.
The gas stations can be a little bit confusing! Don't' be afraid to ask an attendant inside for help (or work together with another obviously confused tourist at a nearby pump). If you have a foreign credit card, you'll likely have to pay for your gas inside…unless you're at a self-service pump. In an attempt to answer one of your questions before you even leave, I'll go ahead and let you know that you'll want to fuel your camper van with regular Dísel (diesel) gas, located on the far left in the picture to the left.
Overall, road tripping around Iceland was nothing short of epic! If you are looking for an adventure and don't mind pulling over every ten minutes for unbelievable photograph opportunities, then you'll find yourself in awe from start to finish. My dad and I made memories that we'll be sharing with family and friends for many years to come!!!
Happy Camping!  #CamperStories
Iceland Travel Guides
 If you like what you see, please subscribe to our YouTube channel!